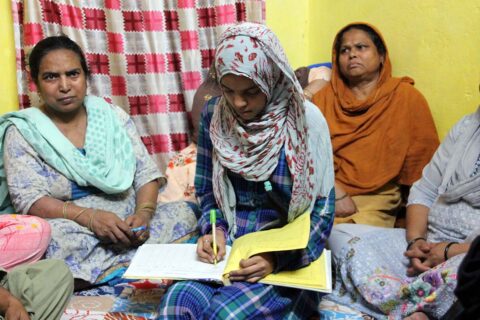 In the mid-2000s, the Hope Project initiated a small loan program (self-help group) for women, because this target group in particular has great difficulty in getting small loans from banks to set up their own business. The women organize themselves in socially homogeneous groups. They set the savings and credit conditions themselves. While they first learn how to save small amounts regularly, in a further step they make small loans available to themselves within the group. Group members are jointly responsible for safety. The loans are used to set up a small "business" or for essential expenses such as medicine or school-fee and books.
This initial initiative has now developed into a federation of 800 women forming 67 groups in total. The federation's capital currently amounts to around €100,000 (approximately INR 80 lacs). About 70% of this amount circulates as loans in the groups, the rest is invested. Groups hold a partnership with a local bank for this objective.
Indian legislation requires these credit groups to be self-managing and independent. The Hope Project can therefore only take on an advisory role. Women's groups from other parts of the city have asked the Hope Project to help set up similar programs.